Rules
General Rules
The usual rules to a monotype challenge are pretty simple-Build a team based around one type! Dual-types are allowed, as well as Pokémon that evolve into the type you pick.
Uranium doesn't quite suit the monotype challenge as well as the main games, so I think a grace clause should be implemented-Since it could be a while until you find Pokémon of your type, you may play with a mixed team, but when a Pokémon of your type does become available, it must be added to your team.
Special Challenge Rules
Rule of three: Your starter must have no more than three stages of evolution-You may have a two-stage with a Mega or a three stage without using its Mega evolution. (like Baariette)
Nuclear Clause:Obviously, for a Nuclear runthrough, you won't be able to get a match for your type for a while. So, for a while, you're not bound by the monotype rules, you only need a Nuclear starter-until you hit Nuclear Plant Epsilon. From there, you have to fill up your party with Nuclear Pokemon. (which is going to be a nightmare, considering your next gym is Sheldon)
Starters
The starter's a bit of a tricky thing-unless you can hack in a Pokémon, you'll have to wait until you can get to Kevlar Town to trade over a type that isn't on the regular starters. In that case, the starter must be level five or below-which isn't much of a hindrance for you, since you'll get an XP boost. (Since Nuclear Pokémon can't be bred, this means you can't play a Nuclear monotype without altering the game)
Any unevolved Pokémon's fair game, but I made a list of options to give some ideas!
Three Stages
Two Stages with a Mega Form
Note:Unfortunately, there's not quite enough Megas for this section to have a complete list. Also, Fafurr was included here just because Fafninter's bulk makes it pretty near a Mega.
If you start off with the Nuclear Magikarp I'm not sure whether to be amazed or laugh.
Two Stages without a Mega
Sprites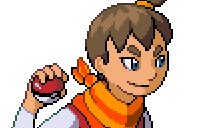 Here's a part that I think is really fun about monotype runs-Custom sprites that go with the theme! These are really easy to change the appearance of-Just go into the games graphics folder
It'll take me some time to get a whole set of sprites for every type (I'm hoping to do a set for each character in a certain type and possibly changing the classic PokeBall), but if you'd like me to start on a particular type or character, I'd be happy to try to get that set ready for you!