Gameplay Notice

Nuclear Plant Omicron cannot be revisited after your first visit and completion of the quest.
East Tandor
Nuclear Plant Omicron
Map description
This area is not described by a map.
Location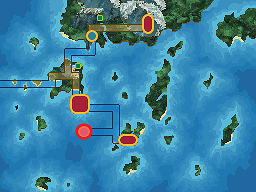 Location of Nuclear Plant Omicron in

East Tandor

.
Spoiler warning!
This article contains plot details about events that occur later in the game.
Nuclear Plant Omicron is one of three nuclear plants in the Tandor Region. It is only accessible through triggering the CURIE and Urayne event after defeating the eighth gym.
Since you can use the island to level up your pokemon rather fast, you should chose your party before leaving for the island.
Description
One of the two remaining Nuclear Plants that still function after the meltdown of Nuclear Plant Epsilon. It is located to the west of Tsukinami Village.
This is the first location you will discover CURIE and Urayne.
Main Quest
This event is part of the main storyline and cannot be skipped.
Upon being sent to Nuclear Plant Omicron, you are tasked to help defeat all of the Nuclear (type) Pokémon that are threatening the Tandor Rangers, Theo, and the Tsukinami Village Gym leaders.
Have you seen all the bugs in Tandor? Give me a call if you find any new ones!

Surfing to the Nuclear Gyarados by Theo will cause you to be trapped in the sea before 1.1. Click here for more info on known bugs.
Once completed, the Nuclear Pokémon surrounding Kellyn and the other Rangers will run off. The power plant will then explode with a beam of radioactivity.
CURIE and Urayne makes their first appearance. Cameron appears and tries to fend off Urayne's attack, but ultimately gets injured when he protects Theo from being killed. CURIE and Urayne flee from Omicron after failing to obtain what they wanted: Uranium cells. Professor Bamb'o will give both you and Theo HM02 Fly, and you will be sent back to Bealbeach City's Tandor Ranger Union.
You will be unable to return to Nuclear Plant Omicron after this event.
Special Encounters
Tandor Ranger
A Ranger is under attack in the first field on your right.
Pokémon
Location
Levels
Rate

| | |
| --- | --- |
| | Help Tandor Ranger |

52

100%

| | |
| --- | --- |
| | Help Tandor Ranger |

52

100%
Tsukinami Gym Leaders
The Tsukinami Gym Leaders are under attack on the eastern shore.
Pokémon
Location
Levels
Rate

| | |
| --- | --- |
| | Help Tsukinami Leaders |

54

100%

| | |
| --- | --- |
| | Help Tsukinami Leaders |

55

100%
Theo
Theo is under attack on the western shore. Note - just talk to Theo, do not attempt to surf on this shore!
Pokémon
Location
Levels
Rate

| | |
| --- | --- |
| | Help Theo |

55

100%

| | |
| --- | --- |
| | Help Theo |

55

100%
Tsuki Ninja
A Tsuki-clan ninja is under attack just west of the main plant.
Pokémon
Location
Levels
Rate

| | |
| --- | --- |
| | Help Tsuki Ninja |

56

100%
Kellyn
Kellyn and three Rangers are at the entrance to the power plant. Note - approaching Kellyn will start the events that automatically take you away from Nuclear Plant Omicron. Finish all other business on the island first!
Items
Item
Location

Hafli Berry

In a patch of soft earth to the left of the power plant. (x3)
Wild Pokemon
Pokémon
Location
Levels
Rate

| | |
| --- | --- |
| | Grass |

40-45

20%

| | |
| --- | --- |
| | Grass |

42-45?

20%

| | |
| --- | --- |
| | Grass |

43-46?

20%

| | |
| --- | --- |
| | Grass |

38-42?

14%

| | |
| --- | --- |
| | Grass |

43-46?

10%

| | |
| --- | --- |
| | Grass |

44-46?

10%

| | |
| --- | --- |
| | Grass |

44-47

6%

Surfing

45

60%

45

30%

45

5%

45

5%

Fishing

Fishing




Old Rod

5-10

100%

Fishing




Good Rod

25-35?

60%

Fishing




Good Rod

26-34?

20%

Fishing




Good Rod

25-27

20%

Fishing




Super Rod

48-50

40%

Fishing




Super Rod

45-49

40%

Fishing




Super Rod

47

15%

Fishing




Super Rod

?

5%