Half-life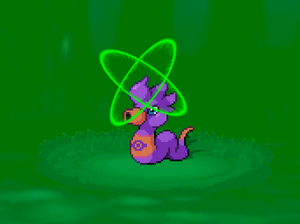 [[File:|300px|center]]
Type

 Nuclear

Category

 

Special

Power

 

—

Accuracy

 

90%

PP

 

20

(max. 32)

Priority
 

{{{priority}}}

The user cuts the target´s HP in half.

Does not make contact

Affected by Protect

Not affected by Magic Coat

Not affected by Snatch

Not affected by King's Rock
Target
Foe

Foe

Self

Ally

May affect anyone but the user
This move was created for Pokémon Uranium
Half-life is a move introduced in Pokémon Uranium. It is only learnable by Nuclear-Type Pokémon. It can be considered a Nuclear counterpart to Super Fang.
Pokémon that learn Half-Life
By leveling up
By Nuclear Form
Trivia
Half-life is named after half-life, the amount of time it takes for half of a sample of radioactive material to decay. It is also a play on words, as it literally halves the life (HP) of the Pokémon it hits.