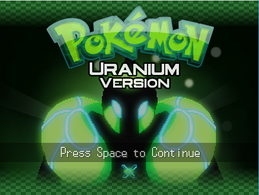 Features of Pokémon Uranium
Contains 8 gyms, 13 towns, and 6 optional Sidequests
More than 190 Pokémon to be caught
GTS, Wonder Trade, and Virtual Trainer
Poké Radar (Tool for searching for special Pokémon)
Battle your friends in PvP matches in a variety of formats
Includes Mega Evolution in battle
Patch Notes and Game Download
Gameplay Notice

You can download Pokémon Uranium Here (Pokémon Uranium Reddit page)
Official Patch Notes: Patch Notes
Standard Install location: C:\Program Files (x86)\Pokemon Uranium Team\Pokémon Uranium 1.0
Save file location: %USERPROFILE%\Saved Games\Pokemon Uranium (Paste into explorer or Windows Search)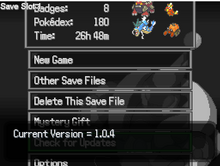 You can verify that you are running the current version of the game by clicking on the 'Check for Updates' menu option in the main menu. If you are on the vanilla releases (version 1.0 and 1.0.1) you will need to re-download the game from the link above, or follow the redirection instructions Here.
Ad blocker interference detected!
Wikia is a free-to-use site that makes money from advertising. We have a modified experience for viewers using ad blockers

Wikia is not accessible if you've made further modifications. Remove the custom ad blocker rule(s) and the page will load as expected.