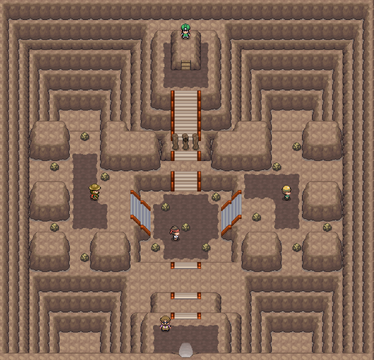 The Burole Town Gym is the second gym the player will visit in the Tandor Region. It is the home of Gym Leader Davern, who specializes in cave-dwelling Pokemon, particularly Ground, Dark, and Poison-types.
The Gym
Carved directly into the mountain caves surrounding Burole Town, the Burole Town Gym is dark and winding, and while you don't have to worry about wild Pokémon encounters while walking along the path, three trainers will challenge you to test if you are "man enough" to face Davern. Back in at furthest depths of the cave you will find Davern, blocked by a strange door; you have to find a Bright Gem to open it.
Puzzle
The secret to finding the Bright Gem is pretty straightforward. Scattered throughout the cave you will see several boulders that can be broken apart using Rock Smash. Smash all of the rocks until you find the Bright Gem.
Reward
Items
Trainers
Trainer

Pokémon

Hiker

Tod




Reward:

700

Worker

Martin




Reward:

700

Black Belt

Jang




Reward:

910
| | |
| --- | --- |
| | |
| 1600 | |
Ad blocker interference detected!
Wikia is a free-to-use site that makes money from advertising. We have a modified experience for viewers using ad blockers

Wikia is not accessible if you've made further modifications. Remove the custom ad blocker rule(s) and the page will load as expected.